It's thought that music, whether playing it or listening, heals both mind and body. By the end of last week, with a flood of information and questions about GenX in the Cape Fear's drinking water coming in almost daily (read "Fear From Uncertainty" for latest coverage), many Wilmingtonians—including us here at

encore

—needed some of that "musical medicine." So, thank Pythagoras for the Tedeschi Trucks Band!

Husband-and-wife-duo Susan Tedeschi and Derek Trucks returned to the Port City to a sold-out show at Greenfield Lake Amphitheater. ILM has played host to a few musician couples as of late, such as Shovels & Rope and Pat Benatar and Neil Giraldo, who make beautiful music together. And when we talk about married couples there's often a certain energy or unspoken connection cited onstage and in their music. With Trucks and Tedeschi, they have this but they seem to also balance each other out.
Here's what I mean: I like going out and being around people, being a social butterfly that flutters from conversation to conversation while sipping my wine and nibbling hors d'oeuvres. My husband … not so much. While he's not strictly a recluse, he's not actively filling his calendar with various soirees. Throughout the years we've learned to work with each other on this. He doesn't "fight me" so much on going to events anymore because—once he's there—he typically has fun; and I've learned to be more strategic in where I ask him to go. In a way, I got the sense this is not unlike Trucks' sort of yin to Tedeschi's yang.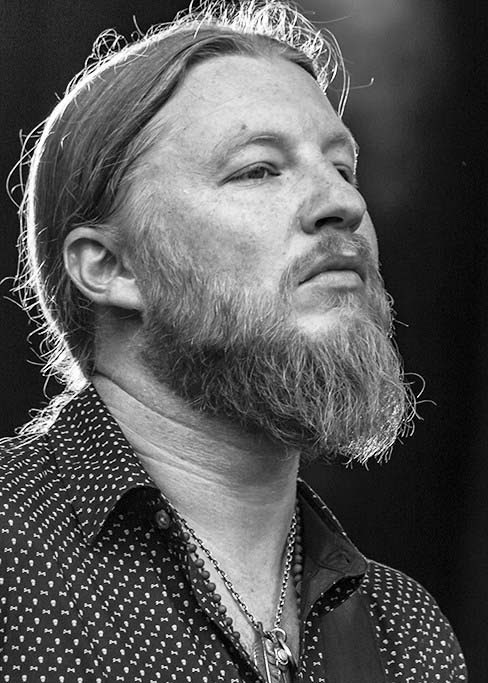 Derek Trucks is a phenomenal guitarist. This is no secret because he became somewhat of prodigy after he bought his first guitar at 9 years old; he is the nephew of Butch Trucks, drummer for The Allman Brothers Band; and made it onto Rolling Stone's 100 Greatest Guitarists of All Time … twice.
Yet, to watch Trucks live is like watching a calm ocean—there may not be any thrashing waves but you are still in awe of the greatness in front of you.
There are no theatrics, so to speak, with Trucks. His facial expression rarely changes and he never "looks" like he's giving much thought to the series of mindboggling guitar riffs at light speed. He really opened up in "Get What You Deserve" from The Derek Trucks Band days.
Long-time bandmember and harmony vocalist Mike Mattison joined Tedeschi on "Anyday" (originally by Derek and the Dominos) and "Right on Time"—which intrumentally sounds like an offbeat-carnival trip at times. The lead songstress blew away Leonard Cohen's "Bird on the Wire." Tedeschi's vocals flowed and floated like her white summer dress in the wind with George Jones' "Color of the Blues."
It's not that Tedeschi is overtly flamboyant onstage compared to her husband; perhaps it's just her commanding voice that entrenches listeners. You want to get out of her way and then charge on with her in "Let Me Get By." She sings of "The Storm" coming fearlessly and she makes you feel "Bound for Glory" before the evening's end. It's no surprise Derek Trucks follows her to the party.
Check out more photos by Tom Dorgan from Tedeschi Trucks Band at Greenfield Lake Amphitheater on encore's Facebook page.